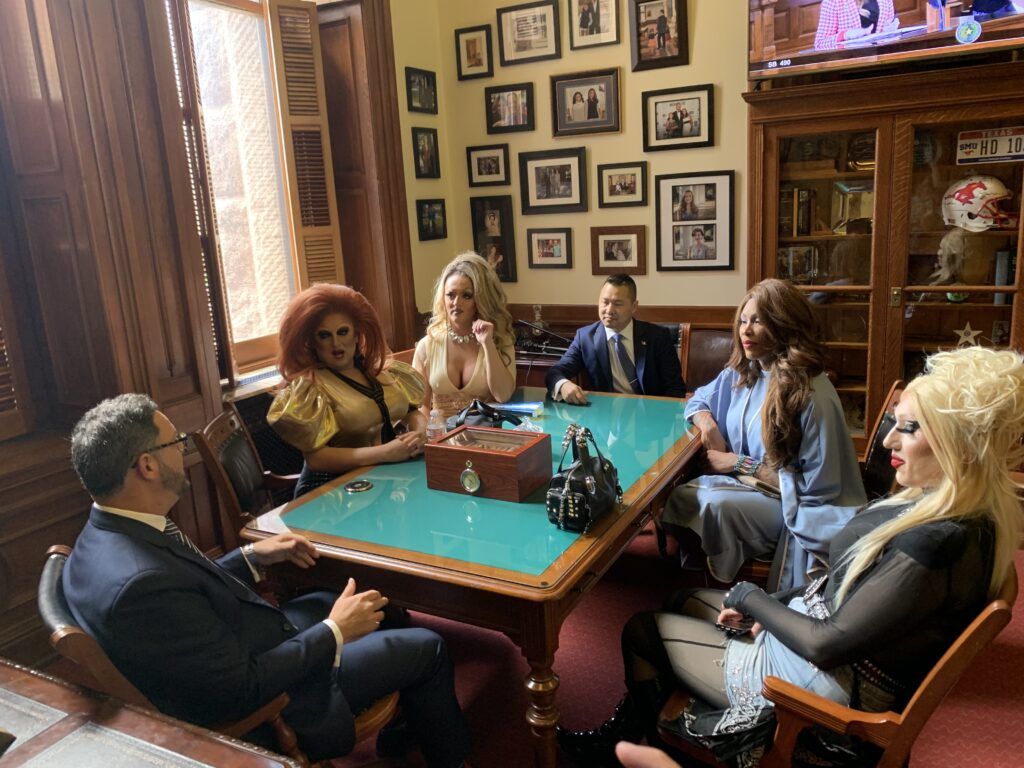 From:
Caven Enterprises
HV Entertainment
Texas Arts & Commerce

The LGBTQIA+ community celebrated a momentous triumph as they successfully eradicated detrimental language that targeted drag performances from the legislation. This extraordinary achievement represents a remarkable departure from the bill's original provisions, bringing newfound optimism and hope for a more inclusive and accepting future.

Initially, the proposed bill contained provisions that posed a direct attack on the LGBTQIA+ community, specifically drag queens and their rights to perform. These provisions went as far as seeking to ban drag shows entirely. Recognizing the negative implications and potential infringement on personal liberties, we engaged in extensive dialogue and collaboration with various partners in Austin, working diligently to find a resolution that upholds both inclusivity and the protection of minors.

We wanted to inform the community of the steps we took prior to the State of Affairs hearing. When we first arrived in Austin in February, it became clear that no substantial progress was being made among major non-profits, state representatives, and senators regarding bills relating to anti-drag, with the exception of the GLBT Chamber of Commerce in Dallas and Houston, who collaborated with their consultants to explore alternative strategies and approaches. Their open communication with all parties involved played a vital role in their ability to find new methods and perspectives to tackle the issue. We then coordinated a meeting with business owners and allies in Dallas to strategize how we can directly engage with the Capitol to fight anti-drag legislation.

We partnered with lobbyists and attorneys to help us navigate the fight. Through an extensive network of individuals, we were able to get prioritized face-to-face meetings with state representatives and senators. Through these meetings, we were able to educate the representatives on drag shows, which aided in watering down the bill and ultimately led to removing all drag references.

In its current form, the updated version of the bill no longer targets or attacks drag performances. This is a substantial achievement, as it demonstrates the power of collective action and the ability to bring about positive change through open dialogue.

The focus of the revised bill is now centered on providing protections for children under the age of 18 from sexually oriented performances, such as those found in strip clubs. The updated bill strikes a delicate equilibrium by preserving the rights of drag performers while addressing concerns related to age-appropriate exposure to sexually oriented performances.

We understand the stigma that the initial drag bill carried and the symbolism it represents. However, as the bill currently sits, it is neither anti-drag nor anti-LGBTQIA+. The current bill stands firmly against any form of sexual indecency toward children.

As witnessed by many, our delegates and allies maintained a "neutral" testimony during the State of Affairs hearing. Our compelling testimony shed light on the issue, prompting the Chairmen of the State of Affairs to recommend a meeting between Representative Matt Shaheen, House author of the bill, and one of our delegates to create a dialogue that could provide a path for additional measures for our protection.
We want the community to understand that the fight isn't over. We want the ability to maintain an open dialogue. The bill still has to go through a house vote on the floor, possibly a Senate vote, and also possibly a joint conference between the House and the Senate. In the worst-case scenario, a special session focused only on the drag bill may come to fruition. If this happens, we will continue to fight for drag performers' rights. Testifying against the bill would close the door to having an open dialogue with key representatives and senators.
Now, on that note, we would like to recognize the many individuals who testified against SB12 in the beginning and continued to rally against it, as your public statements and testimony are needed and heard by all the representatives. Without you, our work would have been much more difficult, for that we thank you and ask you continue to vocalize the statement "Drag is Not A Crime."

Thank you for your ongoing support and trust in our commitment to open dialogue and inclusive decision-making processes. Together, we can build a stronger, more inclusive world for all.
UPDATE: On May 16, 2023, our organizations along with Equality Texas engaged in extensive phone conversations to align our positions regarding the current status of the bill. We reached a mutual understanding that we share a common goal, which is to safeguard the art of drag and support the drag community. Looking ahead, our intention is to foster collaboration and work together to strategically address the various facets involved in combating these anti-drag bills. By combining our efforts, we aim to mount a comprehensive and effective response.